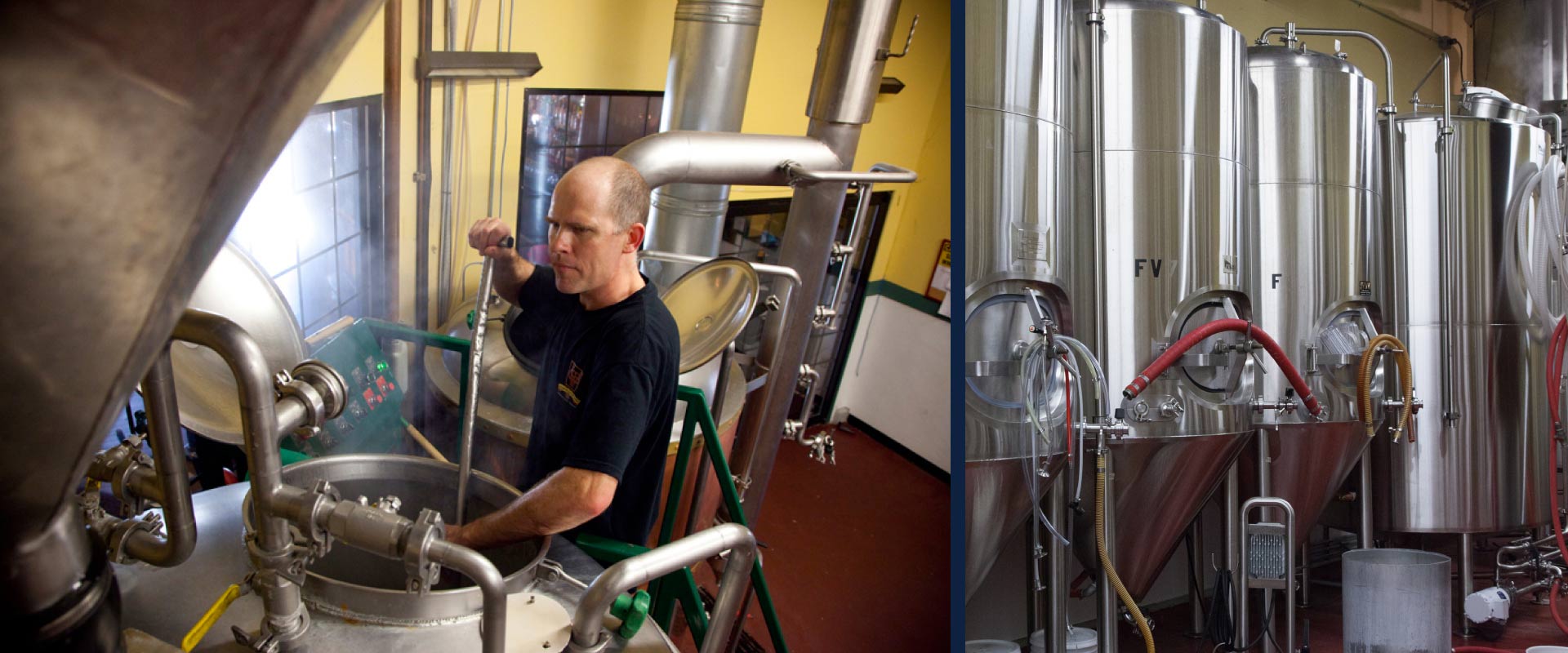 Hand Crafted Beers Since 1993
Our in-house craft brewery revives a brewing tradition in McMinnville started in 1878 by Anton Ahrens and W.R. Bachman of Ahrens Brewing Company. We  produce handcrafted beers of exceptional balance and complexity for your enjoyment at one of our brewpubs or at home.
History
Golden Valley Brewery started production in 1993 and was the 12th post-prohibition micro-brewery in the State of Oregon. Prior to opening in 1993, the Kirchers purchased a used brewery system of converted dairy tanks from an old brewery in Canada. After Peter attended the Seibel Institute for Brewing sciences in Chicago Illinois in spring of 1993 he was convinced it was impossible to produce consistently high-quality beer with the open fermenters and tanks of the used system, so he promptly sold it and purchased the system still in use today. Golden Valley's brewery system was manufactured by JV Northwest in Canby, Oregon. They are one of the largest manufacturers of brewery and winery equipment in the U.S.
Brewery system capacity was originally 7 barrels (14 kegs) per brew and could produce about 1,000 barrels annually. John Harris engineered the brewery start up. He was the head brewer at Full Sail Brewery and worked at Deschutes Brewery in the early years. John Eliassen was our first head brewer and winemaker. John was trained in France for winemaking and made all seven vintages of our Golden Valley wines which were produced from the family vineyard located in the Red Hills, North of McMinnville. The Kirchers sold the vineyard operation in 1998 which was also the last vintage of Golden Valley Pinot Noir.
In 2015, the brewery and warehouse were expanded and moved up from the 7 barrel system to a 15 barrel system, adding larger fermentation, cellaring vessels and bottling line. The new system is also JV Northwest.
Red Thistle was John's first beer and is still a best-seller today along with the highly anticipated seasonal brew, Tannen Bomb. Both beers have been a great success for the brewery.
In 1995, we sold 252 kegs of Tannen Bomb that winter. In 1996, six of the major micro-breweries in the state all tripled their capacity at the same time and that changed the whole dynamics of the wholesale market for Golden Valley.
Meet Our Brew Master Jesse Shue
Jesse Shue joined GVB as brewmaster in 2013. He grew up in McMinnville and worked at Nick's Italian Café while attending McMinnville High School, and also (foreshadowing) did part-time work at Golden Valley Brewery in 1994. After graduating as senior class president in 1993, Jesse attended California Institute of Technology, eventually transferring and graduating in 1999 with a Bachelor's of Science in Biology from University of Oregon cum Laude.
Before joining GVB, Jesse honed his skills at a number of well-recognized NW craft breweries. Jesse started his brewing career working for Darren Welch at Pelican Brewery in Pacific City in 2000 and has been brewing ever since. Before joining GBV, he worked at some of Oregon's finest craft breweries:
Pelican Pub, Pacific City – Assistant brewer
McMenamin's Light House Brewpub, Lincoln City, Oregon -Head brewer
Rogue Ales, Newport, Oregon – Shift Brewer
Silver City Brewery, Silverdale Washington – Head Brewer
Hair of the Dog Brewing, Portland Oregon – Lead Brewer
In 2010 he won the Glen Falconer Foundation Brewing Scholarship and attended the World Brewing Academy (Seibel Institute in Chicago, Illinois)
Jesse took over as brewmaster at Golden Valley Brewery in May of 2013, to build on twenty years of craft-brewing tradition. An innovator in his field, Jesse's created new traditions, including a barrel-aging program and limited production bottle-conditioned specialty beers which are available at the brewery. Jesse has helped to put GVB on the national radar with multiple medals from the Great American Beer Festival and The North American Beer Awards.